Evan, Leslie & Family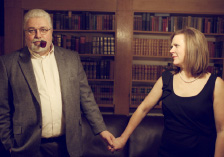 Evan Wilson was born in 1954 and is the second son of Jim and Bessie Wilson. His childhood in Annapolis, Maryland was spent in a home devoted to the Kingdom of Heaven—a home where the Scriptures were the authority for attitudes and actions. He never had reason to doubt the truth of the Gospel, though he fought it off until he was eight years old when the pressure of his sins drove him to his knees in his bedroom.
Those early years were churched but never churchy. The Wilson home was regularly filled with Naval Academy midshipmen or the beatniks of St. John's College. This provided Evan a strong example of the benefits of Christian hospitality centered on the Word of God and wise Christian counsel.
In 1968 the Wilson family moved to Ann Arbor, Michigan to open an evangelistic bookstore for InterVarsity Christian Fellowship. The pattern of their home was still open, this time to the students of the University of Michigan, both believers and unbelievers. Evan had an opportunity to witness his parents patiently extending themselves to those in need. After three years Evan's parents moved to Moscow, Idaho to open evangelistic bookstores at the University of Idaho and the neighboring Washington State University. Evan enlisted in the U.S. Navy and was stationed at a base in southern California. It was there that he met Leslie Rye.
Leslie Rye was born in 1957 and was raised in the desert of the Imperial Valley in southern California. Her home was a clean, orderly place, which, like that of Evan's family, was given to much hospitality. She was well loved by her parents. The family was very stable, but had no religious affiliation.
Early in high school Leslie claimed to be an atheist, like her father. She didn't think she needed to be religious in order to be good, and she truly valued being good. In her junior year she expressed some concern about a family member's behavior to a friend. The friend invited her to church. Leslie attended the church for a few weeks, and after one evening service she went forward during the altar call, but knew nothing about the gospel. In the weeks that followed she attended the church's New Members Class, where the gospel was laid out and fully explained. During that time Leslie came to understand that she was a sinner in need of forgiveness, and gave her life to the Lord one night - on her own in her room.
About a year and a half later she started attending Bible studies at the Navy Base, led by Evan Wilson.
In 1977 Evan was honorably discharged and moved back to Moscow to attend the University of Idaho as a Fine Arts major. He encouraged Leslie to consider changing schools (which she did) and they were engaged in November of '77. During the summer after his first year of college Evan and Leslie got married and moved into a small two bedroom house. Almost immediately they began extending hospitality, featuring Leslie's talents as a hostess and cook, and Evan's desire to minister to others in conversation.
After that first year of marriage Leslie graduated from the University with a degree in Education. Another year found Evan and Leslie thinking aggressively about building on their desire to minister out of their home. The Lord provided one of the biggest houses in town, which was far beyond their economic resources, and they moved into the Big Haus in 1980 with their first nine residents. In 1981, after a year in the Haus, Evan, now a History major, graduated.
Since that day they have raised four children—Davis, Michal, Graeme, and Gunn—all walking with the Lord, with over 300 college and career Haus residents passing through and looking on.