Resources
Over the many years of Haus life our labors have sometimes produced product. We have made aprons, coffee cups, satchels, posters, bookmarks etcetera. These have failed to inspire the buying public and have cost us more to produce than we have ever made from selling them... except, dear reader, for three items.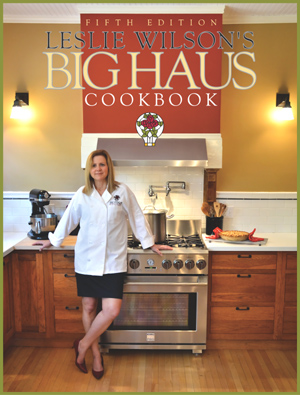 The Leslie Wilson Big Haus Cookbook (boarding house approved)
After thirty years of cooking for college students and a growing family, Leslie has honed her kitchen skills to a level where ex-Haus residents have demanded certain recipes they fondly remembered. This volume answers those requests and provides Scriptural advice on how to practice the hospitality that has come to define the Big Haus. The book has pleased Haus alumni, as well as many Big Haus friends and guests. Now in its fifth edition. $25.00
---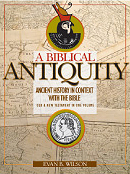 A Biblical Antiquity—Ancient history in context with the Bible.
Drawing on his training and study of history, Evan taught a course on ancient history as it impinges on the Biblical world for eighteen years at two Christian high schools in Moscow, Idaho. After teaching just from his notes for the first few years, he decided that he would write a text book. Although this volume is written for a high school audience, it is a valuable resource for any Christian who is curious about the ancient world of the Scriptures and interested in a historical and archaeological defense of the faith. $25.00
---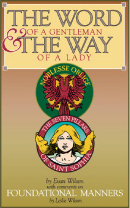 The Word of a Gentleman and the Way of a Lady (also called The Word and the Way)
Many years ago Evan became interested in the writings on manners and etiquette by Balthasar Castiglione (The Code of the Courtier) and Lord Chesterfield (Letters to His Son and, no, this is NOT G.K. Chesterton). After many philosophic discussions with the young men of the Big Haus, Evan distilled the claims of gentlemanly behavior in a list of fifteen "rules" or observations, which he made into a poster and lectured on in his Mojo Oracles seminar [link]. At the request of a friend with daughters, Evan developed fifteen parallel "rules" for young ladies, which were taught in a seminar for ladies: The Tao of Eve [link]. The rules for both sexes describe the Christian courtesy – what C.S. Lewis called "love in trifles" – of a world, sadly, quite distant from our own. This volume consists of one-page philosophical defenses for each of the thirty rules by Evan, and five short chapters on basic mannered behavior by Leslie. $10.00
---
If you would like any of these, click on the 'Add To Cart buttons above and order with PayPal, or if you prefer old school click here for a PDF order form you can print out and mail with a check payable to The Big Haus Society.